Garamiyas Alkhaams Heya
( Ammi )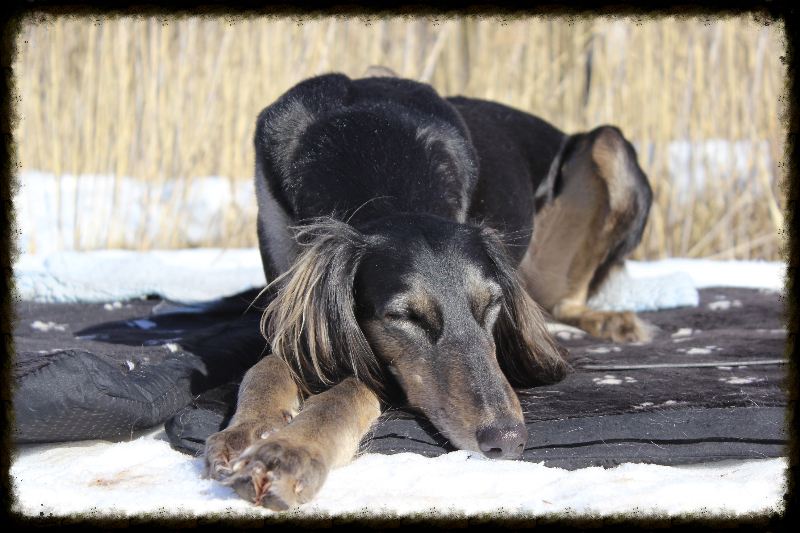 12/9-2009
Sire: Maymouna's Qaased Jatagan
Dam: Dar el Hindiyas Jaliya al Garamiya
Ammi är parad med Ila Iranschahr och valpningen är beräknad till 29 maj.
Ammi föddes 2009 i Jaliyas A-kull. Ammi är en jättegosig nätt tik som alltid vill ligga nära och mysa, gärna under täcket. Hon är väldigt kattlik och lägger sig gärna i knät, eller på soffans ryggstöd där hon får mest sol och bäst utsikt från fönstret.
Hon är väldigt sprallig och lekfull.
Ammi älskar kappbanan och springer klockrent. Hon är superfokuserad på haren och kvick. Tyvärr har Ammi aldrig testat lure coursing.
Ammi är Thyroidtestad.
Ammi is expecting puppies with Ila Iranschahr and puppies are due May 29th.
Ammi was born in 2009 in Jaliyas A-litter.
She is a very cozy, neat girl who always want to be close and cuddle, preferably under the duvet. She is very cat-like and likes to lay in someones lap or on top of the sofa where she can get the most sun and have the best view from the windows.
She is a frisky and playful girl.

Ammi loves the race track and she race brilliantly. She is super focused at the lure and quick. Unfortunatly Ammi has never tried lure coursing.

Ammi is Thyroid tested.